Glamerotica Sex Academy is Live on Snapchat
---
Glamerotica Sex Academy is now live on SNAPCHAT and accepting students who are eager and ready to learn more about sex and improve their sex lives.  Enrolling simply requires paying your tuition to attend class.
So What are the benefits of becoming a student of My Sex Academy?
Daily access to sexuality lessons in oral sex, Men's Sexual Health, sex positions and more
Access to a Live Sexpert for advice and personal coaching at a discounted rate
Live demos
Access to discount codes for adult online shopping at premium boutiques
Access to Play parties and Events thrown by the Headmistress (Yours Truly)
Sex Toy Reviews
And More
Home assignments will be given to help students apply what is being taught for the day, and those who turn in completed assignments will earn rewards like phone calls from Me or free toys.  Just a little incentive to encourage you to do your SEX WORK.
It's Easy to Enroll! Just pay your desired tuition cost, Include your SNAPCHAT PROFILE NAME in the payment notes and you will be Accepted!
There are three levels of tuition:  $20 per Month, $60 for a Half year and $99 for the full year. 
Remember, Each lesson will only remain live for a day. So you will miss out on information that may not come back around for another month.  Pay your Tuition on time to remain in class.
This page will feature nudity so a mature audience IS REQUIRED 18+.
**Please Note, there are no refunds.  Students will be removed from the academy at the end of their chosen tuition rate.  You will get a reminder to your Snapchat inbox that your payment is due in time before removal if you would like to remain a student within the academy.**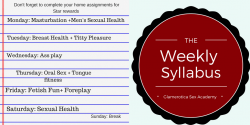 Comments
comments
---