New Year, New Events! My January Schedule Is WAY UP!
---
Happy New Year my loves! I'm so excited to be in a new year with the opportunity to bring more love, confidence and sexy to all of you.  You have been asking me about my next live appearances and guess what? I've confirmed my schedule for January's tour dates! Yay!
I'm now back in school to become a certified Authentic Tantra Practitioner, so my tour schedule is being spaced out more from month to month.  In the first month of 2018 I'm showing love to the East Coast with my Girls' Night Out Series! It's an event that I've dedicated to touching on several common concerns raised by women while taking the edge off with cocktails.  ISSA GIRLS' NIGHT!
So what can be expected at this GNO? Well, for starters you can expect to have a cocktail or two and you can expect to meet me.  We will also be getting into a lot of hip rolling and booty popping when I show you the basics of how to improve your riding skills.  We will slurp on cucumbers to perfect our tongue game when going down and practice talking dirty. OW!!! The major overtone of the entire night is assisting attendees in building sexual confidence and owning your sexy! And of course, questions will be answered for anyone who has them.
What cities am I hitting This month? I'm glad you asked sis!
January 19th meet me in New York City!
January 20th will be my first time bringing my private class to Newark, New Jersey so I need all of my Jersey girls to represent!
And Finally, I will be hitting one of my favorite cities in the south Miami on January 24th for a midweek pick me up to get my girls through the week! Issa hump day girls' night experience.
The cost for my GNO series is $50 if you're riding solo and $70 if you're bringing your ride or die along.  I encourage friends to support each other in their sex lives and come together! It's even more fun when you do.  Your ticket includes your cocktail, A discount code for services/videos on my website, a lifetime discount code for sex toys and a wealth of knowledge you can apply IMMEDIATELY!
Want to join me in a city near you? Then get your tickets! Click on your desired city below and let's get it POPPIN!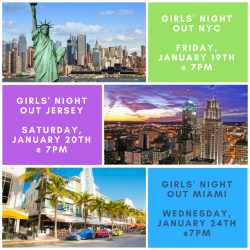 Comments
comments
---